For jacketed reactor systems with requirements outside of the Atlas or Globe product ranges, Syrris offer Custom Reactor Systems. Ranging from 10ml to 100L, our Custom Reactor Systems are designed and built to your specifications.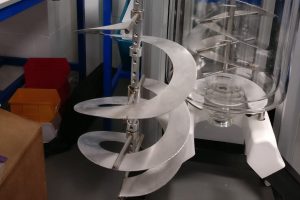 Syrris specializes in systems that require large vessels (larger than 5L), elevated pressures (larger than 3 bar) or high temperatures (larger than 250°C), alongside automation and datalogging. Every reactor is assembled to the customers specification and rigorously tested at our facility before installation at your laboratory.
Complete systems can include reactors, stirrers, circulators, temperature probes, pumps, balances, sensors, etc. and be integrated with pH and/or liquid control.
How it works: the custom parts process
Many custom parts are simple variations on existing parts. Some customers, however, require far more complex custom parts for their jacketed reactors or flow chemistry systems, such as automated bottom outlet valves (BOVs) or completely redesigned stirrer designs.
For these more complex custom parts requirements, we work closely with the Custom Parts Team at Syrris