H-Genie™ is a compact high-pressure hydrogen generator designed to be used in any laboratory as a safer and simpler alternative to hydrogen cylinders. Capable of generating hydrogen at up to 1 NL/min and 100 bar (1450 psi), the system can help expand chemists' limited hydrogenation chemistry capability by providing high purity hydrogen gas, on demand from water, to batch and flow reactors.
The presence of cylinders of hydrogen raises the risk level of a lab. Using an H-Genie can eliminate the stored hydrogen, reduce the explosion/fire risk and free-up floor-space, while meeting all the needs of hydrogen-consuming lab tools.
Key features
Intelligent: Patented high-pressure cell technology
Unique: 100 bar capable for difficult chemistry
Safe: Water is the hydrogen source and multiple safety features
Powerful: One small box can provide an entire lab's hydrogen
Versatile: Run multiple systems off one Genie at varying flow rates
Specifications
Hydrogen Production Rate
0.1-1 NL/min
Output Pressure Range
1-100 bar
Purity
≥ 99.99% (4.0 @ 100 bar)
Water requirement
Deionized water (recommended

conductivity < 1µS/cm)

Water consumption rate
200 mL/hr
Water reservoir capacity
3L
Recommended environment
Ventilated laboratory fume hood
Unit dimensions (H x W x D)
345 mm × 365 mm × 460 mm
Unit weight
38 kg
Outlet parameter
Swagelok O.D.: 1/8″
Scaling-up a Hydrogenation reaction in continuous flow in a lab environment
The importance of hydrogenations in the pharmaceutical, agrochemical, and fine chemical industries cannot be underestimated. Approximately 25% of the synthesis of marketed drugs as well as clinical drug candidates have at least one hydrogenation step in their synthetic sequence. Nevertheless, the use of hydrogen gas in synthetic chemistry laboratories is oftentimes not preferred or even avoided due to regulatory, safety, and technical challenges.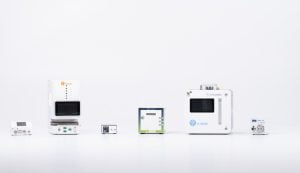 Phoenix Flow Reactor™ from ThalesNano is an all-in-one flow chemistry setup for catalyst testing, synthesis, optimization, and scale-up that is useable in any fume hood in any lab. This combination offers you a wide temperature and pressure range in addition to high pressure hydrogen generated safely without cylinders for your reactions, granting you the capability of synthesizing from milligrams to kilograms of product on the same system without the need to spend on expensive infrastructure or equipment.