Stirred, temperature-controlled, contained filtrations
Filter vessels are fully jacketed down to base for accurate temperature control
Range of jacketed filter vessels in 1 and 2 litre volumes
Filter assembly allows for efficient solid-liquid separation with minimal hold-up
Unique filter support plate aligns the base with the vessel for tool-free assembly
Synthesise and filter in the same vessel
The unique jacketed filter vessels allow for precise temperature control of the entire vessel contents during synthesis and filtration.
Jacketed glass filter vessels
Fully jacketed glass filter vessels for precise temperature controlled filtrations.
Some features: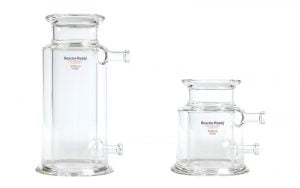 Precision engineered borosilicate glass vessels feature a jacket design that extends right down to the filter plate for precise temperature control of your entire vessel contents.
The upper DN100 polished flat lid flange combines with a FEP-encapsulated O-ring and PTFE collar to offer a leak-tight seal between the vessel and lid.
The straight sided vessel inner allows unhindered filtration and features a wide DN150 bottom flange giving easy access to the filter cake.
Filter assembly allows efficient solid-liquid separations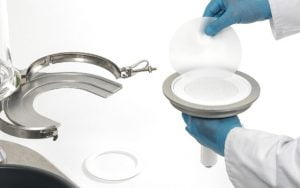 Reusable filter membranes are available in a range of porosities and materials.
Filter plate with removable clamp allows for easy product collection and reassembly after filtrations.
If you already have a Reactor-Ready system, you can easily upgrade it. Contact us for more information.