The Phoenix DB‐6 dry heat diffusion system provides a compact footprint for six‐cell testing. Precision heating and stirring systems contained within the block makes the system fully portable, able to be placed in any position the analyst chooses for faster, easier cell preparation. With precise control of mixing speeds from 200 rpm to 900 rpm, and temperatures from 25 °C to 40 °C, the system meets or exceeds USP <1724> specifications. 
An advanced color touchscreen running on an embedded single‐board computer with a built‐in SQL database and real‐time clock provides advanced monitoring, diagnostic, and reporting capabilities, user‐friendly programming and navigation, storage for up to 100 test protocols, and configurable security for up to 50 users. The large, bright display allows key parameters to be seen from a distance, including speed, temperature, elapsed time, and time to next sample. 
When sampling is due, the system alerts the operator with the cell position, a countdown timer, and an audible beep. Test reports are delivered via the Teledyne Hanson serial validation printer.
Phoenix DB-6 21 CFR Part 11 Compliance
Support for 21 CFR Part 11 compliance includes a self-calibrating speed control; built-in diagnostics with instant on-screen alert; auditable logs for events, errors, test reports, test history, and service; serial number tracking of eight different elements (six of each element); real-time clock; serial printer connection; security settings for up to 50 users or administrator profiles; inactivity timeouts; and incorrect login lockout.
Configurate your own system
Our partner Teledyne Hanson has an unique configurator, try it out here, or just contact us, to configurate your system with one of our specialists.
Transition to Automation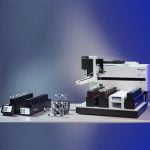 Phoenix RDS platform. Each DB-6 block can be installed onto the Phoenix RDS robotic sampling platform without modification.