The Vision G2 Classic 6 dissolution tester is the compact, rugged workhorse sibling to the Vision G2 Elite 8. The G2 Classic 6 is precision engineered to ease the rigors of manual dissolution testing. It meets and exceeds worldwide standards including compliance with USP, FDA, ASTM, EP, JP, CE, CSA, RoHS, and 21 CFR Part 11. 
Features
The design (2 across x 3 deep) provides easy access to all vessels

Compact footprint saves valuable bench space

6-position Easi-Lock™ vessel plate ensures proper vessel centering

Up to 100 protocols stored (create, manage, call routines)

Superior coating protects vessel plate from corrosion

Fixed drive head guarantees repeatable, drive head positioning

No tools or adjustments needed to switch amoung USP apparatus 1, 2, 5, 6 and dissolution vessels 150 and 250 ml


"Quick Test" feature begins tests immediately with the push of a button

Adaptable for automated sampling
Find the Perfect Dissolution Testing Solution for Your Needs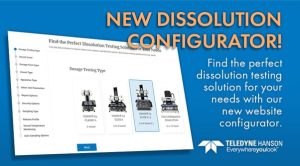 Teledyne Hanson has developed an unique online configurator. Tailor your very own dissolution system based on your unique requirements and preferences!
With this user-friendly tool, you can effortlessly design a system that perfectly aligns with your specific needs, ensuring maximum efficiency and productivity. From selecting dissolution baths to choosing specific accessories, the possibilities are endless!