8-vessel Dissolution tester
The modular design is plug-and-play ready making these systems upgradeable or automated without the need for separate firmware. This Dissolution Bath comes standard with a full colour touchscreen and intuitive menus, giving users the confidence of precision control for speeds 25-250 rpm and temperature 25-55 °C. Powerful programming, backed by a robust security system for 50 users, features the ability to create up to 100 unique protocols that can be conveniently transferred by flash drive to other Vision G2 testers. 
No tools or adjustments needed to switch among USP App. 1, 2, 5, 6, and 150 mL and 250 mL small volume!
Features:
Scalable design easily configured for automated, hands-free sampling

8-position Easi-Lock™ vessel plate ensures proper vessel centering

Superior coating protects vessel plate from corrosion

Easi-Lift™ drive head with multi-lock positions allows for quick, repeatable position changes

No tools or adjustments needed to switch amoung USP apparatus 1, 2, 5, 6 and dissolution vessels 150 and 250 ml


Can be configured for unattended automatic introduction of the dosage form when media has reached the user-specified temperature or time

"Quick Test" feature begins tests immediately with the push of a button

Optional Auto-Probes reduce hydrodynamic interference by automatically exiting the vessels after sampling, unlike stationary probes that remain in the vessel throughout the dissolution process

Minimal user adjustments with easy set up and go
Find the Perfect Dissolution Testing Solution for Your Needs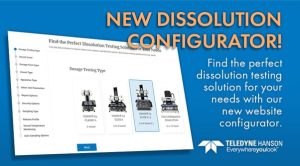 Teledyne Hanson has developed an unique online configurator. Tailor your very own dissolution system based on your unique requirements and preferences!
With this user-friendly tool, you can effortlessly design a system that perfectly aligns with your specific needs, ensuring maximum efficiency and productivity. From selecting dissolution baths to choosing specific accessories, the possibilities are endless!